2018 World Rope Skipping Championships Heatedly Started
2018 World Rope Skipping Championships is started today in Shanghai University of Finance and Economics. It's really a splendid competition of which skippers all over the world possess strength that can't be underestimated.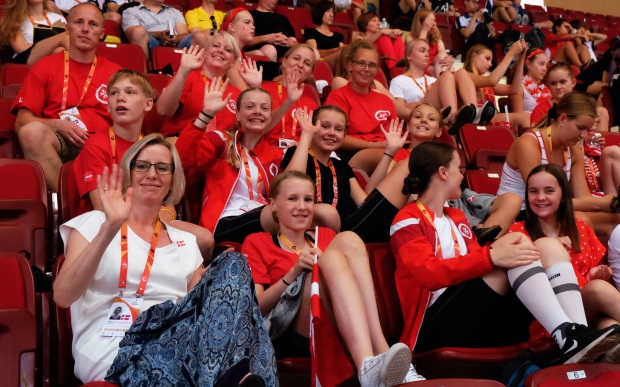 The first part of the competitions, International Open Tournament is undergoing today, which includes 4×30 seconds Speeds, 4×45 seconds Double Dutch Speeds, Single Rope Pair Freestyle, Triple Double Dutch Freestyle, Single Rope Team Freestyle and Team Double Dutch Freestyle. Athletes from different countries and regions including China, Hong Kong, Macao, Australia, Iran, Belgium, Singapore, Japan and Demark struggled to win in the fierce competition. Sports lecturer of Shanghai University of Finance and Economics, a member of Technical committee of CRSA, Liu Dong'ao is the only international judge who scored in the morning competition.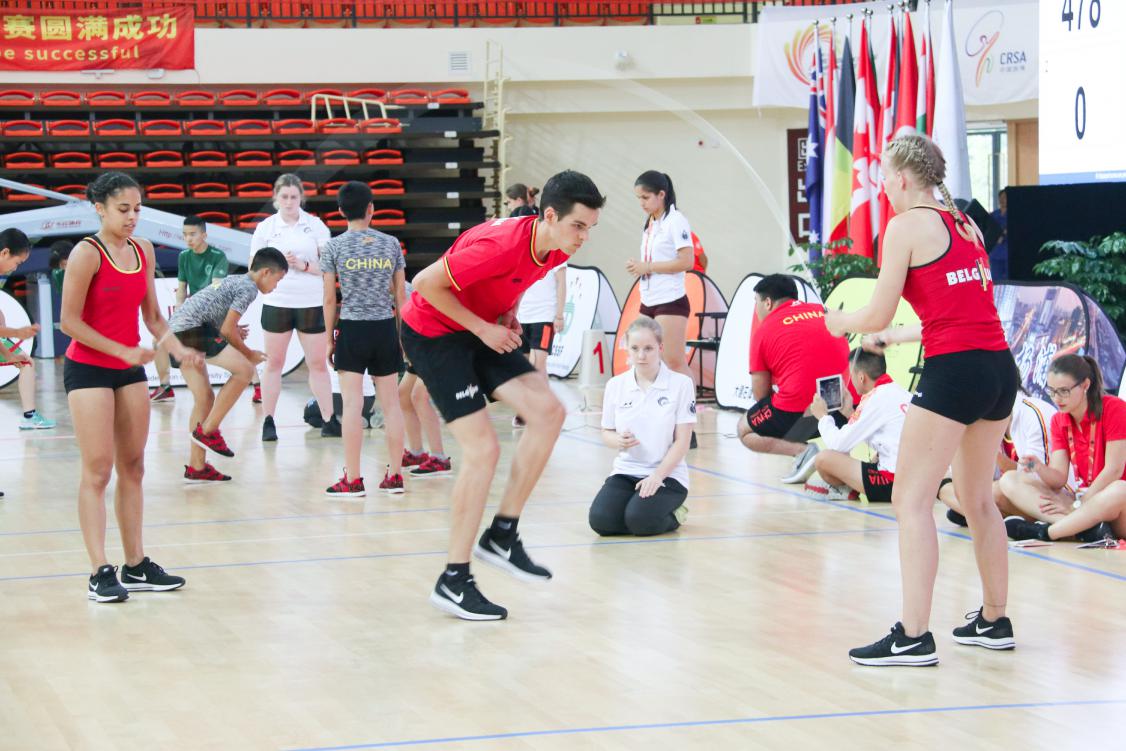 The team of the 76th High School of Zhengzhou created new world record 639, which had been 612, in female 4*45 seconds Double Dutch Speeds of the International Open Tournament, far beyond the scores of the second, directed by national senior coach Dong Yanjun. They had the world witness China's speed!
In Single Rope Pair Freestyle, athletes from all over the world perfectly performed with very difficult movements, with solid basic skills and tacit cooperation, winning waves of applause from the audience. In Double Dutch Freestyle, delicate choreography in splendid melody amazed spectators, showing a wonderful visual feast for people of the world.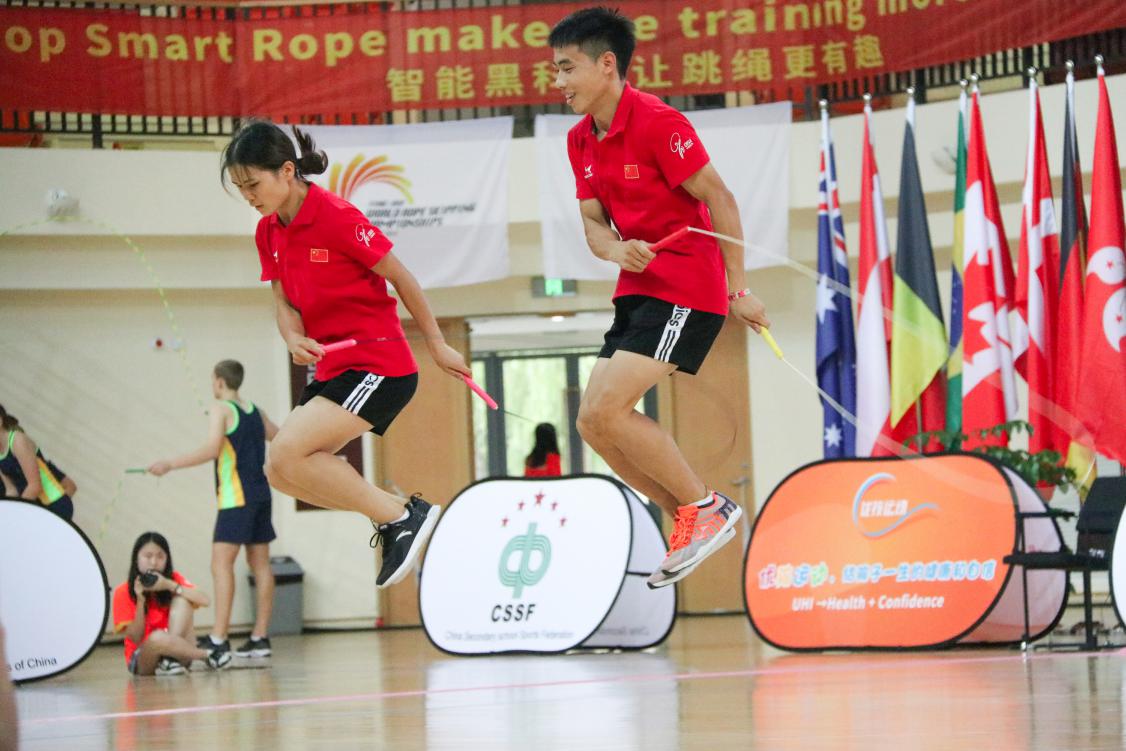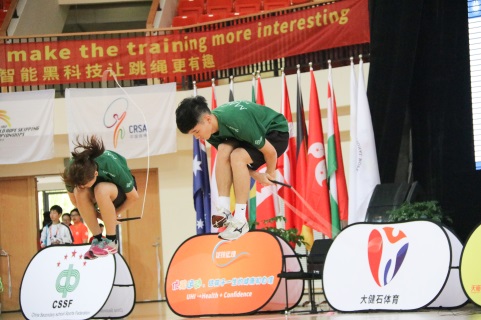 Let us look forward to the athletes' more marvelous performance!
Ropes flying, Youth dancing. The 2018 World Rope Skipping Championship Opened!
At 19:00 of July 27th, the 2018 Rope Skipping Championships was opened in Shanghai University of Finance and Economics.
The Championships is definitely the most influential rope skipping competition over the world and is also an international Class A sports event recorded by the Mpinistry of Foreign Affairs of China and confirmed by the Department of External Relations of the General Administration of Sports. In addition, it's also the first time that the Championships is held in China.
The Championships is hosted by the FISAC and undertaken by CRSA and SUFE, co-organized by Shanghai Dajianshi Sports&Culture Co., Ltd, supported by Shanghai Municipal Education Committee, China School Sports Federation, Federation of University Sports of China, Shanghai Yangpu Sports Federation, Shanghai Federation of Rope Skipping, Federation of University Sports of Shanghai, Shanghai UHI Sports&Culture Co., Ltd.
Who attended today's opening ceremony are:
President of FISAC-IRSF, Takashi Ogawa,
President of Shanghai University of Finance and Economics, Jiang Chuanhai,
Vice President of Olympic Council of Asia, Song Luzeng,
President of Shanghai University Student Sports Association, Xue Mingyang,
Vice Governor of Yangpu District,Shanghai City, Xu Jianhua,
Ex-Vice Director of Chinese Leisure Sports Administrative Center, Liu Beijian,
Vice Director of Shanghai Administration of Sports, Zhang Xingmin,
officials, guests, judges, coaches, athletes all over the world.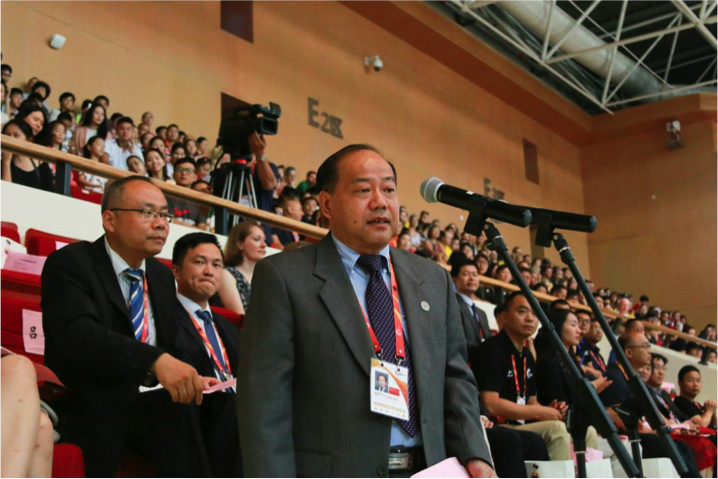 Deputy Secretary of Communist Party of Shanghai University of Finance and Economics, Zhu Mingxiong hosted the opening ceremony. On behalf of the organizer, Shanghai University of Finance and Economics, Zhu expressed sincere welcome to the officials and guests, showed his respect for judges, team leaders, coaches and athletes over the world and extended his thanks to all staff for their contributions.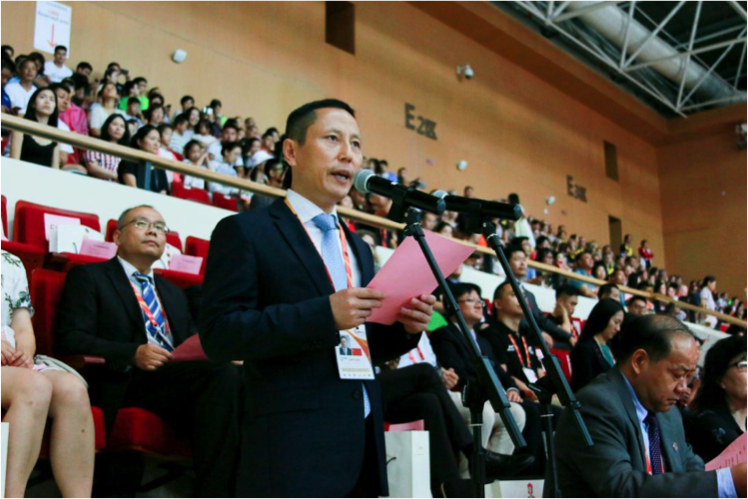 After flag-raising ceremony, Vice Governor of Yangpu District,Shanghai City, Xu Jianhua delivered a welcome speech. Xu introduced the long history of Yangpu district and the development of rope skipping in Yangpu. He's firmly convinced that the success of the Championships will support Yangpu in the popularization of rope skipping and help Shanghai become 'World Famous Sports City'.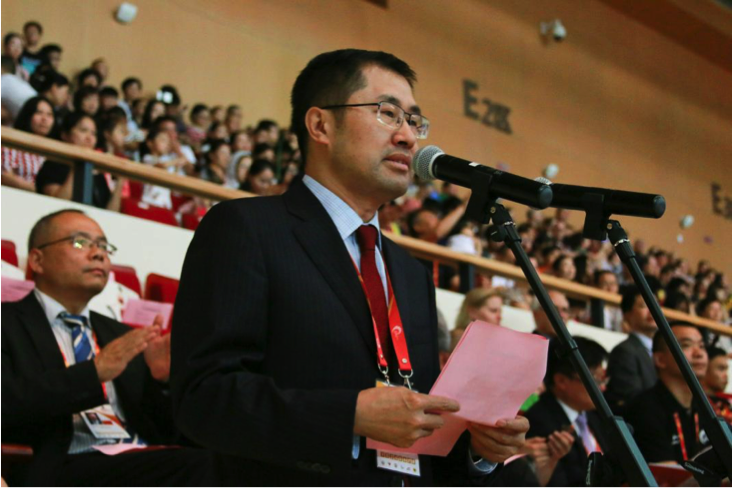 Afterwards, President of Shanghai University of Finance and Economics, Jiang Chuanhai took a speech about SUFE. In recent years, with the concept 'fitness first', SUFE was populating various sports especially rope skipping to motivate students to participate in sports in order to build up their health. He promised that SUFE would strive to cooperate with the committee to hold a successful competition. Finally, he wished everyone a nice game in SUFE.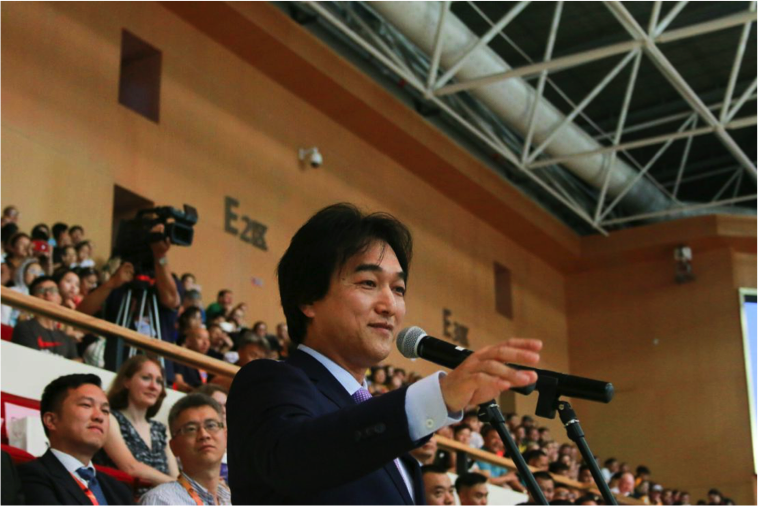 After Jiang's speech, President of FISAC-IRSF, Takashi Ogawa shared his story about rope skipping. His words radiated an infectious enthusiasm for rope skipping. What's more, he encouraged that all skippers to make their own stories.
Then, athlete representative, Cen Xiaolin and judge representative, Liu Dongao did solemnly swear.
Eventually, Vice President of Olympic Council of Asia, Song Luzeng proclaimed the opening of the Championships.
Next, skippers across the world made a wonderful performance. First of all, China National Rope Skipping Team brought a lighting rope show. With the lighting ropes full of sense of science and technology, the skippers gave everyone a visual feast.
The next performance is square dance show from fitness dance team of Siping Community, Yangpu district, Shanghai. Then, college student from East China Normal University brought a cheerleading show. And skippers from Gansu, Chongqing, Shanghai, Henan, Guangdong, Guizhou perform a speed show which let all the audience experience the speed of China.
The opening ceremony is only the beginning of the Championships. Let's look forward!
Intense Championships, China's team broke three world records
After the opening ceremony yesterday, the World Youth Championships kicked off with athletes' enthusiasm and audiences' expectation.
In the morning, it was the speed races that warmed up the audience. Everyone's heartbeat was skyrocketing while skippers were speeding up.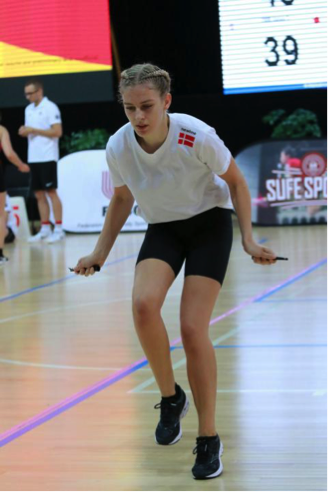 Single Rope Speed Relay (SRSR) began firstly. Different from 30 Seconds Speed in Masters competition, just like 4×100 meter relay in the Olympic, the rope skipping relay required not only speed of all team members but also close teamwork. Since the championships was an international Class A sports event with all masters gathered, every team worked hard and struggled to take gold medal home. Finally, the team from China (Xiao Hanxiang, Yang Lianqun, Pan Zhiyu, Wei Zhengfu) beat all the other competitors in Open SRSR and broke the world record 415.5 that was created by China in 2016 with 419.5.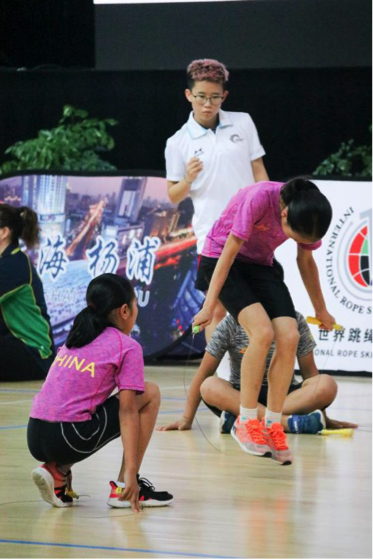 After the relay race, Double Dutch Speed Relay (DDSR) started. Compared to SR relay, the frequency of skippers was even faster in DD relay because two team members would shake the rope for the skipper who jumped the rope, which made the DD relay a visual feast. Eventually, in Open DDSR, China's team (Yin You, Liang Haoyu, Ge Min, Rao Pan) won the first place and created a new world record 677.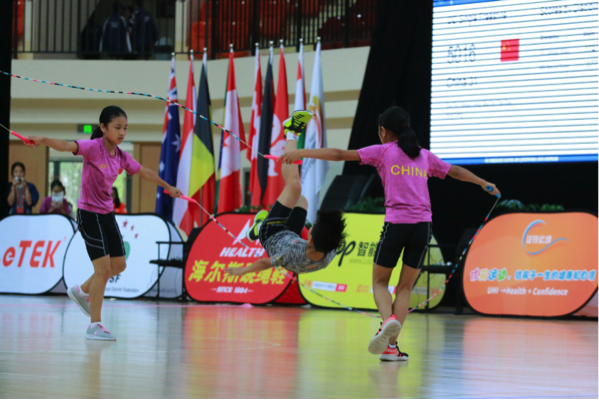 And in Male DDSR, the team from Hong Kong China (Huang Qiming, Sheng Baoheng, Liao Jiayou, Chen Zhuonan) was ahead of all the other teams and beat the record of 671.5 by 684.
In the afternoon, Single Rope Pair Freestyle (SRPF), Single Rope Team Freestyle (SRTF), Double Dutch Single Freestyle (DDSF), Double Dutch Pair Freestyle (DDPF) took turns. Diverse teams had different styles. Teams from Australia and Belgium integrated difficult gymnastics skills into their show, which impressed all the audience and won much applause. Every time a team from Hong Kong China joined in a contest, we could hear their loud shouts in supports. Was it the secret of Hong Kong's success? The music selected by the German team is quite in dance style. It seemed that German skippers were greatly gifted in dancing and full of expressiveness.
That's all for today's competition. The Championships is still going on. Will China's teams create new world records in the following days? Thanks for the efforts of all skippers. Let's look forward to it!
Large Scale Exhibition Game Carried the Whole Field and Showed Sports Spirits
On 31th July, the fantastic exhibition performance was held in SUFE's main gymnasium. After that, there was a closing ceremony at the same place. Skippers from all around the world gathered together to attend social banquet, communicate with peers with various cultural background and start friendship.
The attractive exhibition performance In the afternoon, teams from 7 different countries and districts participated in the competition. They combined difficult skipping movements with dynamic music and made a splendid performance.
UHI club of SUFE is also a member of China National Team. First, they chose music Shanghaitan, which signifies culture of the oald Shanghai. Then the music changed suddenly into happy Xishuashua and Green Apple Paradise. And their energetic performance showed the audience youth and happiness.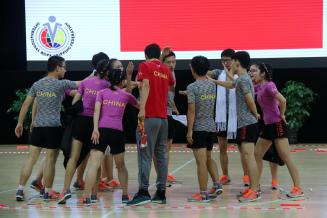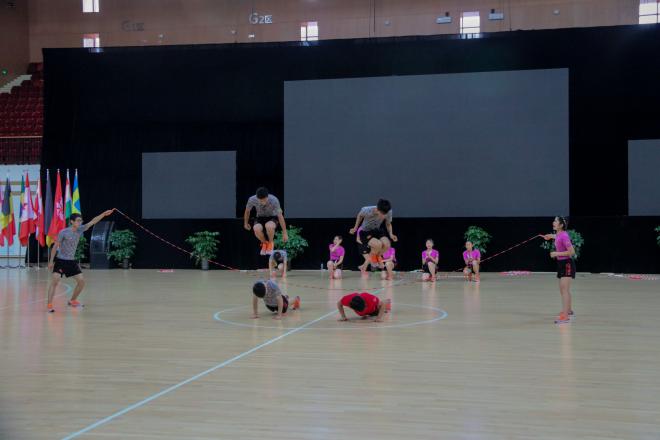 Australia team also gave great performance. Their beginning design of counting ten numbers was so surprising. Four skippers' same movements relying on the long rope made the audience scream again and again. The cool hip-hop dancing attracted all people's attention.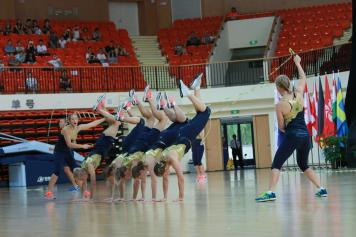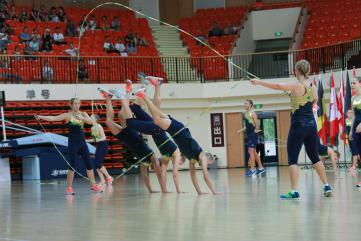 Skippers from Hongkong, China, relying on their extraordinary skills and supremely difficult actions, gained great applaud. They were divided into several groups. Every group has two or three people and displayed a lot of gymnastics movements. The colorful light rope added more wonderful features.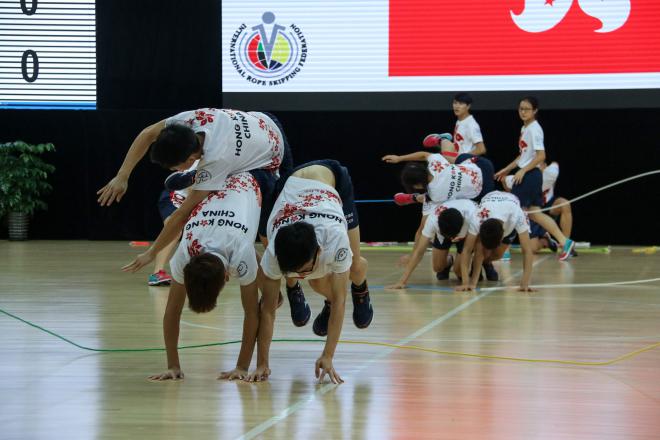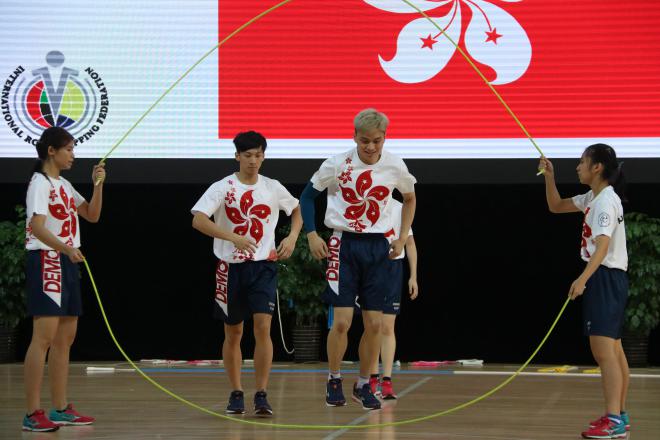 Athletes from Belgium attracted the audience with creative choreography. Many special movements like carp jump on water caught audience's view. At last, the Belgium team gave perfect performance and won champion!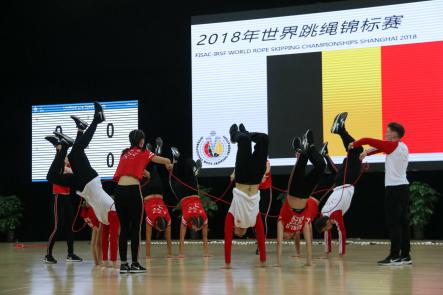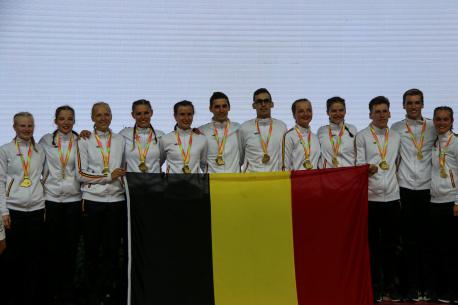 The solemn 2018 WC closing ceremony The 12th 2018 World Rope Skipping Championship, which was hosted by FASIC, undertaken by Social Sports Guidance Center of General Administration of Sport of China, finally come to an end today. In this championship, the fair judgement of the judges and the diligent work of officials and volunteers left people attended the championship a deep impression.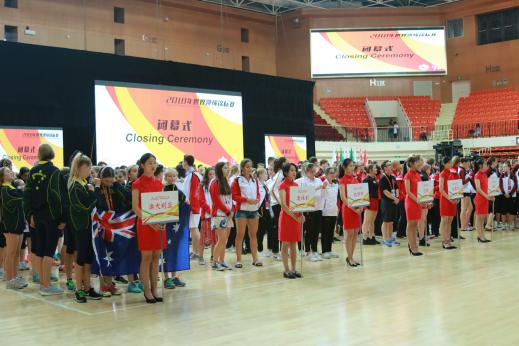 Hua Fang, vice principal of Shanghai University of Finance and Economics, Takashi Ogawa, chairman of World Rope Skipping Federation, Xiaojun Lv, director of Yangpu Administration of Sports, Jiong Sheng, secretary-General of Federation of University Sports of Shanghai, Yanghui Chen, president of Asia Rope Skipping Federation & Vice President International Rope Skipping Federation, Rnoald Kappert, the former President of World Rope Skipping Federation, Shaun Presideng, chairman of WJR, Michael Simpson from WJR etc. attended the closing ceremony. Meanwhile, some leaders from SUFE and Administration of Sports of Yangpu District, Shanghai, media friends from the Xinhua News Agency and CCTV and judges, team-leaders of different countries, coaches, skippers and officials of the committee have also attended the ceremony.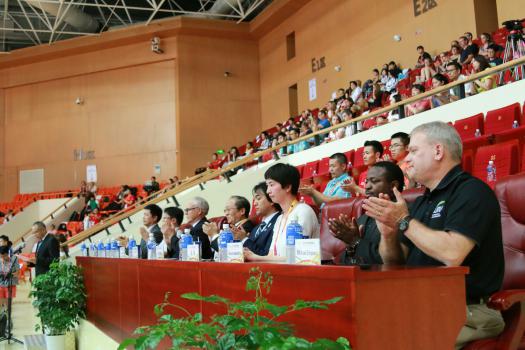 Jidong lv, director of Physical Education Department of Shanghai University of Finance and Economics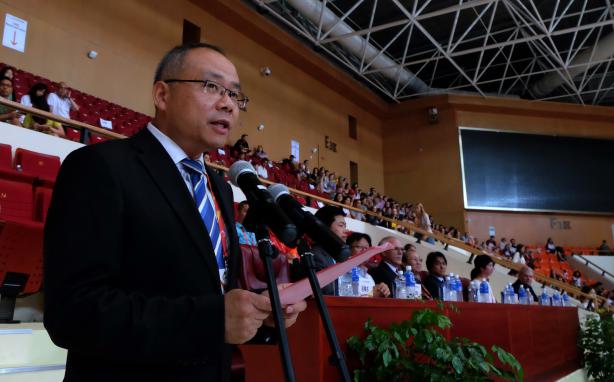 First of all, Hua Fang gave a lecture. He pointed that this championship brought both the performance of world top rope skipping skill, a platform for international communication, and a guidance for our students. In the newly coming century, SUFE will try its best to hold a revolution in physical education, positively improving the level of competing sports and develop public sports. We hope that by the education of general ability, SUFE will cultivate a large number of excellent students with high degree of education, strong ability and healthy body.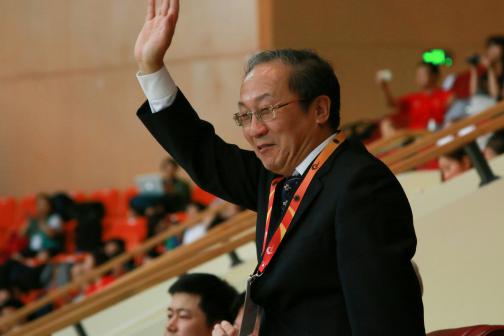 Next, Takashi Ogawa, the president of FISAC gave flowers to the representative of the judges to thank for their devotion. It's their diligent contribution including strict criterion of judgement and openness that assure the championship's running smoothly.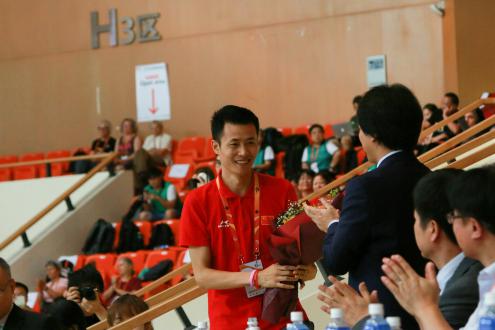 After that, Takashi Ogawa delivered flowers to the representative of volunteers to thank for their devotion. During the championship, they worked in different aspects such as competing, dining, hoteling and driving to ensure the competition's going fluently.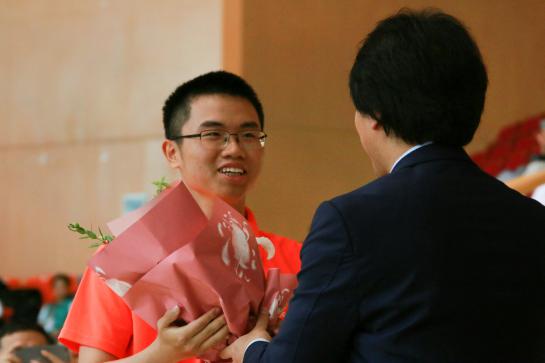 Then, Takashi Ogawa sent flowers to the representative of CRSA. To hold this competition, they have prepared for more a half year.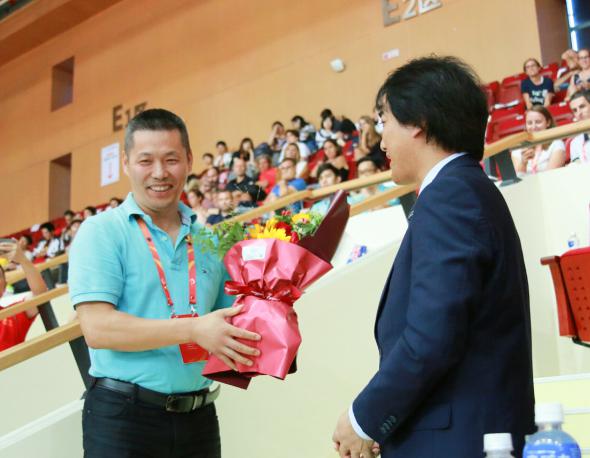 After sending the flowers, Takashi Ogawa gave an ending speech. In his speech, he expressed FISAC's thank to SUFE, the government of Yangpu District, Shanghai and CRSA. Apart from this, he also expressed his appreciation towards outstanding skippers and their wonderful performance.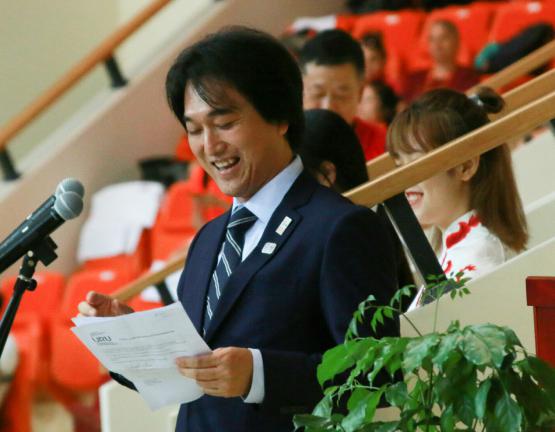 Next part, the flag of FISAC was returned to Takashi Ogawa by Hua Fang..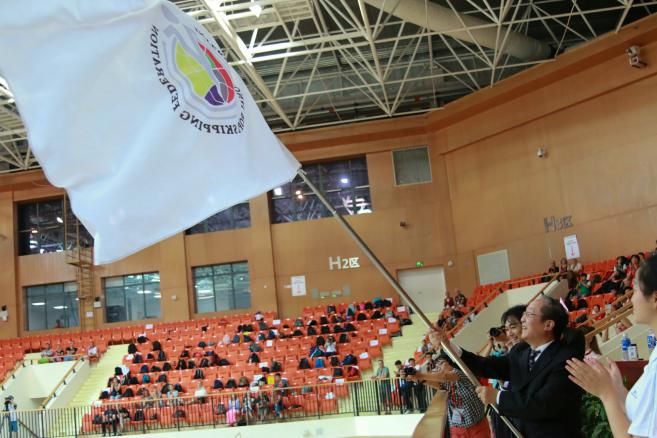 Eventually, Ronald Kappert, last chairman of FISAC announced the end of WC2018.
Attractive social banquet After the closing ceremony, skippers from all over the world gathered together and had a happy time at the carnival. In the Scavenger game The skippers are required to finish the mission of taking photos in two hours and make them checked by volunteers. The first prize is Loop Lite intelligent rope or a Health rope. The second prize is cultural shirt, cup, China rope or storage bag. The third prize is the custom-built badge or wrist strap. The first one to gain the first prize is an Australia skipper.
From the beginning of the competition to today, we enjoyed endless miracles and surprises brought by rope skipping. We witnessed many new world records were created in SUFE, and we enjoyed skippers' fantastic performance together. We experienced the sports spirits shown by skippers from across the world and received friendship and happiness. Hope we can meet again in the future!